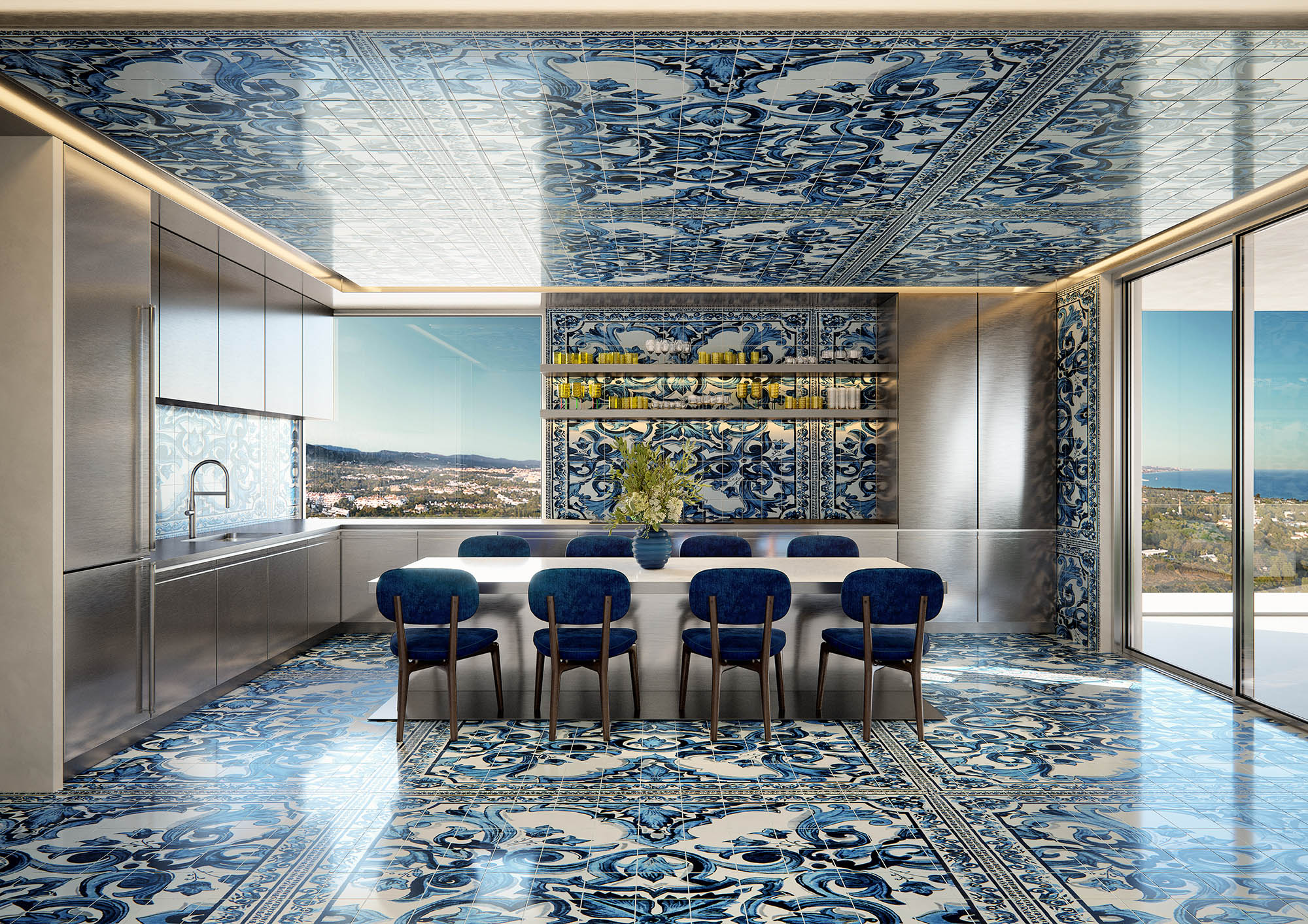 Design Hills Dolce&Gabbana Marbella is a meticulous collection of residences and vast spaces dedicated to fashion, art, leisure and gastronomy located in Marbella's exclusive Golden Mile.
The new project, developed by Dolce&Gabbana with Sierra Blanca Estates and in partnership with internationally renowned studios – The One Atelier as General Designer & Coordinator, Fresh Architectures (facade) and Storage Milano (interiors) – is an extraordinary architectural feat that perfectly exemplifies how the buildings will meticulously adhere to precise proportions (inspired by the golden ratio and the Fibonacci sequence) in order to coexist harmoniously with the surrounding natural landscape. Designed in the purest of Dolce&Gabbana style, each of the buildings will form a grand staircase facing the Mediterranean Sea, creating a sensory ascent full of art, light, craftsmanship and exclusive services.
The project will give life to a complex that will feature five imposing, pure and modern buildings, surrounded by lush gardens and outdoor infinity pools. All the 92 large format apartments of the project will have a square footage between 280 and 900m2 with up to five bedrooms and will be fully furnished with exclusive Dolce&Gabbana Casa creations.
Design Hills is more than a residential project: the complex will host various indoor and outdoor sport facilities including paddle tennis courts, a fully equipped fitness center, outdoor wood gym, a boxing ring, exclusive areas for meditation, yoga and pilates, golf simulators and a SPA. It will be also equipped with an exclusive range of services, from a cinema room to a bar and cocktail area; wine and cigar cellar; private meeting and conference rooms equipped with screens, a library area and multipurpose rooms to host celebrations and private events.
The joint project between Dolce&Gabbana and Sierra Blanca Estates will also have its own Pool Club, which, once opened, is expected to be one of the main attractions for visitors to Marbella every season and its own commercial boulevard bringing together the best international luxury commercial brands, as well as multiple signature restaurants, cafes and other gastronomic establishments.
This amazing work of architecture and design was presented during a private presentation event held on September 8th on the Costa del Sol since the construction has already begun and the completion deadline is set for 2026.